The 15-year consensus on creating HS2 has been shattered. The fall-out causes all kinds of problems, in particular for the Midlands and North.
HS2 was not just a new railway, but an opportunity to get better value out of the existing network. Not just new high-speed stations, but the centrepiece of city/regional development plans, now blown out of the water.
Adjustments yes, the need to pause capital outlays to stay within revised national budgets, yes of course; but stopping HS2 halfway at Birmingham is the kind of shock that damages investor confidence. The kind of change that cannot be accommodated by re-scheduling work programmes.
There was a Government Plan
Just two years ago the Government's position on rail investment for the Midlands and North was set out in its 'Integrated Rail Plan' (IRP). It followed the guideline investment budget set by the National Infrastructure Commission which, as a child of HM Treasury, had taken the unusual, but vitally important step, of setting a budget for rail investment for the North and Midlands.
True the IRP got a poor reception, because its £96bn budget (see ref 1) would not fund everything the regional bodies wanted, with neither the full 'Northern Powerhouse Rail' nor the eastern arm of HS2 (which was instead to be subject to further study) considered to be affordable. But it was recognisably a plan. Development work could continue, land could be acquired, powers sought and construction commenced.
Plans we all know can evolve. Uniquely, for rail investments, detailed arrangements and obligations for their delivery are established through Acts of Parliament.
So, nobody expects projects given Royal Assent to be abandoned at a party conference after nearly 13 years of cross-party support. Such projects and plans, after all, are what businesses need to be able themselves to invest, what young people need to fashion careers.
Outside London
Now, with HS2 curtailed, all the English regions can do is look to the much-derided 'Network North' – published to show how Government wants to spend the £36bn 'savings' from HS2 curtailment along with a £12bn held-over 'commitment' to support rail connectivity between Liverpool and Manchester.
We say derided, because as was quickly pointed out, 'Network North' is neither a 'network' nor is it for the North – or even for the North and the Midlands. Rather it is the result of rummaging through DfT files to see if anything affordable turned up, complete with a pro-motorist tweak. So a significant allocation of what was a regional rail budget now goes to the highway sector instead.
With a budget now allocated not just to the North and Midlands but across England and Wales (except London), and also required to cover road-based transport schemes from pot-holes to dual carriageways as well as rail, the meaning of 'levelling up' has been devalued. For the Midlands and North, regional and city-region rail investment plans are in tatters.
Middle England
The Midlands has a £9.6bn saving to be re-allocated.
There is no explanation of how cancelling the 'Midlands' part of HS2 can save as much as this. Phase 1 in the Midlands is to be completed – even improved (at Handsacre, its northern limit). More expense here at the new northern limit of Phase 1 means less money saved to spend elsewhere, of course.
Beyond Handsacre, the now axed Phase 2a reaches across the north Midlands to Crewe. The  capital cost of Phase 2a is in the range £6-8bn in 2023 prices. It has by some margin, the lowest cost per mile of the HS2 project.
West Midlands
In the West Midlands, the Combined Mayoral Authority had unsurprisingly centred its transport investment and economic strategy on deriving maximum benefit from its two HS2 stations.
Until two weeks ago, the new HS2 Curzon Street station in Birmingham was fondly being described as the hub of the new national high-speed network, with routes not just to London, but also to the East Midlands, Yorkshire and the North East and to the North West and Scotland. No wonder Birmingham has already seen an inward investment boom.
HS2 Curzon Street station, Birmingham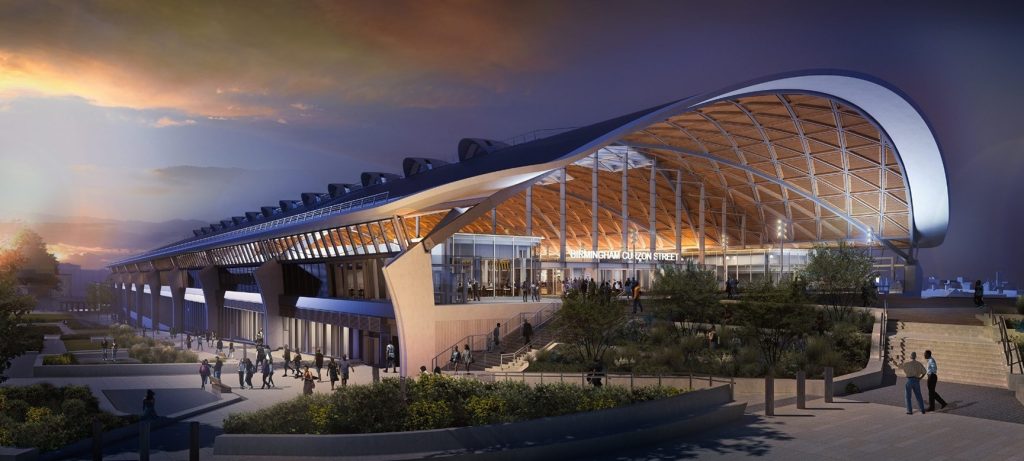 Image: HS2 Ltd
But now, plans for Midland Metro to serve the HS2 stations and for the Midland Rail Hub (created by fusing together Curzon Street with a better connected Moor Street station) look sadly mis-placed. Yet this is where 'Network North' suggests the savings from HS2 cancellation should be spent, providing  better connections from places east and south of Birmingham at the adjoining Moor Street station. There is much less point in providing these new connections into Moor Street if all that is on offer at Curzon Street next door is an HS2 service to London.
We really don't have a plan for supporting a curtailed HS2 – Network North doesn't provide one. Maybe it is time to look again at providing better rail connections from the Black Country into Moor Street station, a connectivity gain with access to HS2 London services that really could be transformational for this part of the West Midlands. So yes, there are opportunities here, and the West Midland authorities will be working hard to develop them. What they can't do is imagine that Birmingham will now be the centre of a national high-speed rail network. The Prime Minister has put a stop to any such notions.
East Midlands
Across in the East Midlands, there was irritation at the time of the Integrated Rail Pan two years ago, at the likely loss of the planned HS2 station at Toton. This station on the Birmingham-Leeds section of the original 'Y-shaped' HS2 network formed the core of a wide-ranging economic development strategy.
For the last two years, the West-East Midlands part of HS2 and a study to examine the best way onwards to Leeds had been the committed way forward. Development would still be possible at Toton, for example – based on new services using the electrified Midland Main Line; and the prospect of HS2 services running directly to existing city centre stations at Nottingham and Derby came into play too. A change, but still the type of connectivity boost the regional economy needs.
But now, with HS2 curtailed, these east-side plans and options have been dropped, despite some of them being simply upgrades of existing lines. It's not just HS2 on the naughty step: the strategy for the existing rail network has also been lost.
Yet there are some positives in what survives. Extending St Pancras-Nottingham services onwards via Newark to the East Coast Main Line and Leeds is being supported in 'Network North' and this will lead hopefully to key parts of the East Coast Main Line upgrade being implemented as presaged in the Integrated Rail Plan. But it would be wise not to lose the possible Birmingham-Nottingham section of HS2 in the meantime. Its route should be safeguarded too.
The North
The North has been nominally allocated £19.8bn of the £36bn saving in the mis-titled 'Network North', along with a second additional pot of funding– a £12bn held-over 'commitment' to support improved rail connectivity between Liverpool and Manchester, which we will also consider here.
Yorkshire, Humber and the North East
As part of the £19.8bn allocation for the North there is reference in 'Network North' to £2bn for a new station at  Bradford and new links via Huddersfield to Manchester; and £3bn for upgrades and electrification between Hull and Leeds and Hull and Sheffield, Leeds and Sheffield, and Manchester and Sheffield – main lines that, were they in the south east, would have been electrified decades ago. These sums are modest in relation to associated claims for much-shortened journey times. Unrealistic, in truth.
This rushed listing of rail schemes reads rather like a hand-written notice hurriedly hung up for a Parish Hall meeting.
Welcome as some of this may be to parts of the country that have been long neglected – Bradford is name-checked – it commits to nothing, not even an agenda. Indeed, it was soon afterwards clarified that the contents of 'Network North' were just 'illustrative'. After publication, its key offering to North East England, investment to re-open the long-closed Leamside line, was summarily dropped. Since Government some years back put in place a statutory body – Transport for the North – established to advise it on transport strategy for the North of England, it is perhaps just as well that 'Network North' is illustrative. Assuming, of course, that Government seeks and values Transport for the North's advice.
Transport of the North (TfN), as soon as it was set up, found itself with a team of Department for Transport (DfT) helpers on-site. But it managed to cling on to the Northern Powerhouse concept from former Treasury Minister, Lord O'Neill. Inter-connecting the cities of the North better would stimulate economic growth – the 'agglomeration argument' writ large.
The Northern Powerhouse vision
The Northern Powerhouse centre-piece would be Northern Powerhouse Rail (NPR): reliable, faster connections, mainly east-west, a complement to HS2's improved north-south connectivity.
Responding to the urging of the then HS2 Chairman, Sir David Higgins, the major city authorities of the North (Liverpool, Manchester, Sheffield, Leeds, Hull and Newcastle) came together to develop the idea – nine years ago. An outline of what was needed proved remarkably straight-forward. It consisted of a network of lines with city-city journey times defined by the fastest that could be contrived on the then existing railway – a useful benchmark of what might be achievable with appropriate investment. (see ref 2)
Sadly, a planned second stage study to see whether new lines or upgraded existing lines were needed and if so, in what combination, suitably examined sub-region by sub-region, was abandoned. The focus on resolving arrangements where rail lines converge in city centres – especially for the key 'nodes' – Leeds, Manchester and Sheffield, which would together go a long way to delivering the Northern Powerhouse vision was lost. These key nodes – the city centres where rail routes converge – are the places where investment in particular needs to be focused to unlock the rail network for the 21st century.
Any parallel drawn with the Elizabeth line is facile: it's the rebuilds of London Bridge, St Pancras, King's Cross and Euston in central London and in nearby Reading that show what the central need is in the North. (see ref 3)
Transport for the North
What emerged in due course was unsatisfactory. Instead of a focus also on investment at the congested hubs of the North's rail network two competing projects emerged, one an upgrade – the Trans-Pennine Route Upgrade (TRU) – the other a combination of new build and upgrades: Northern Powerhouse Rail (NPR).  Over the single most important corridor, York-Leeds-Manchester-Liverpool, the two schemes have had an uneasy co-existence, and into this corridor, TfN has inserted the overlooked city of Bradford.
Meanwhile the TRU has grown in significance and into a £11bn scheme, with more necessary if it is to resolve the capacity constraints in Leeds and Manchester. And as 'Network North' points out Bradford can be better connected to Manchester via a new connection to TRU and Huddersfield.
To understand the TfN policy position pre-HS2 curtailment, we can look at its draft transport strategy of May 2023, which envisages an (as yet uncosted) NPR network as shown below.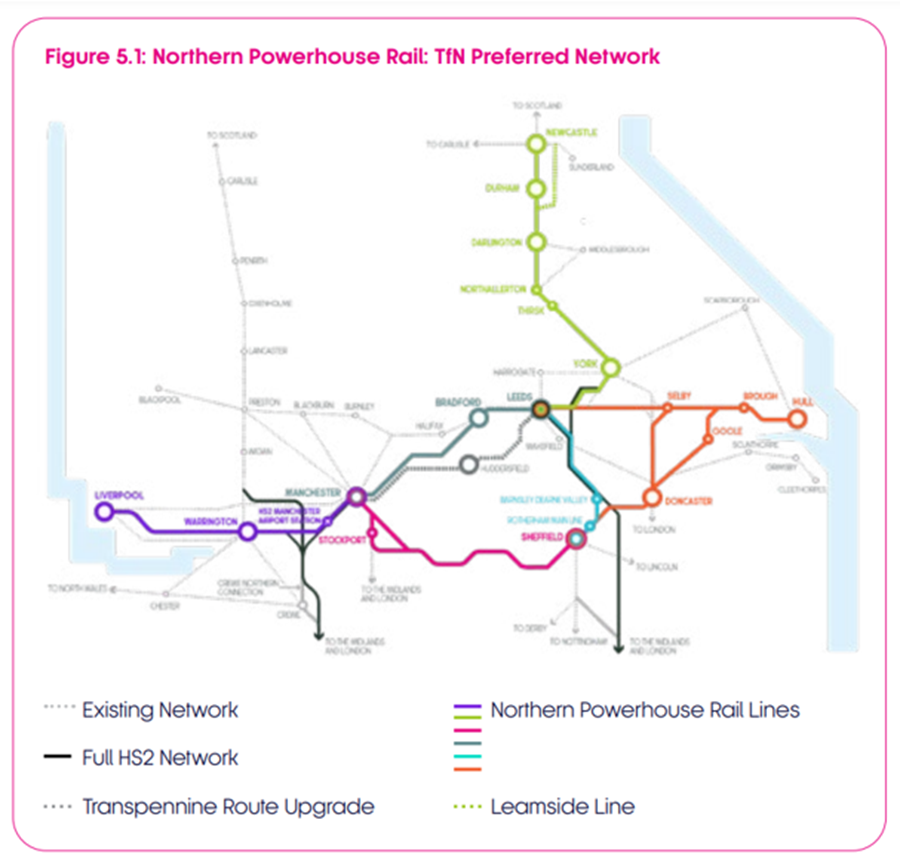 Here the original full HS2 network (shown in black) is relied upon to provide new high-speed routes for part of the improved connections between:
Sheffield and Leeds (shown in azure blue above) , and
Liverpool and Manchester (shown in purple).
Transport for the North had been clinging on to the original version of HS2's eastern arm, but all variants of this have now been dropped, along with any other approach that would add new connections in the Sheffield-Leeds corridor.
And on the western side, while the so-called £12bn 'commitment' for Liverpool-Manchester remains in place, Phase 2b cancellation (and with it the Phase 2b Hybrid Bill) has seemingly removed the section of new route into Manchester that would, in time, have carried trains over a further new route from Liverpool (via Warrington Bank Quay), a line which currently remains uncosted.
So this curtailment of HS2 not only removes the two key limbs (in blue and purple) from the map and from Transport for the North's core vision; it means that the contribution that HS2 would have made to the capacity challenges in Leeds and Manchester city centres are no longer available. True, in both cities, the solution HS2 provided was based on the creation of an adjoining new terminus station that limited its overall network value. But these plans have gone.
North West
For Transport for the North, a key question is what consolation should be taken from the £12bn held-over commitment in Network North, apparently to make good the loss of the HS2 route into Manchester.
The  special £12bn allocation won't cover the costs of creating a new route westwards to Warrington and on to Liverpool, as Liverpool city region mayor Steve Rotheram immediately pointed out.
It seems likely that such a route even if affordable would not, in any event, allow shorter Liverpool-Manchester timings than today's more direct route between the two cities, first laid out nearly 200 years ago. And it would ironically leave the final part of the HS2 route into Manchester intact, but disconnected from its sister route further south.  True it would add terminus capacity at Manchester, but what's really needed there is more 'through' capacity for services to run Liverpool-Manchester and beyond – to Bradford/Leeds/York/Newcastle/Middlesbrough/Sheffield/Hull – take your pick of ultimate worthy destinations.
No, TfN will surely have to consider how best to re-fashion Northern Powerhouse Rail from scratch, now the HS2 'piggyback' options have been removed.
For the North to Decide
While nine years of planning have been apparently wasted, now is not the time to give up. The North absolutely does deserve a better rail service, and it will need investment to get it. And it must be for the North to determine what's needed, not Ministers in London.
There is another highly important factor for TfN to consider in updating the regional transport strategy: timescales. The 'free ride' into Manchester that HS2 supposedly offered to the NPR aspiration would, in reality, not have been usable before (say) 2050 on current major project delivery timescales. After all, HS2 into Manchester was said to have an early 2040s timescale and another Parliamentary Act would be needed for the add-on route via Warrington into Liverpool. The middle of this century is surely too long to wait for the uplift an improved rail network can offer the North's economy.
And along with timescale, we need to address the question of budget. Without a financial limit, regional authorities will naturally be tempted to 'ask for the moon'. We commented at the time positively on the wisdom of buying into the regional allocation of national transport budgets that the National Infrastructure Commission developed to determine the transport needs of the North and Midlands.
With some simple assumptions about allocations across transport modes (including more of the same to split road/rail budgets), the IRP £96bn budget for the North and Midlands was essentially an allocation to these two mega-regions of the then reduced HS2 and NPR budgets, plus an amount according to population headcount. This was the device that subverted the 'natural order' of Treasury Green Book transport investment allocations based on the best available benefit:cost ratios – an approach that means that the south east will generally get most funding (because that's where congestion is greatest and so the benefits from transport investment is highest).
Conclusion
In summary, it is no good going back to strategies of just a few weeks ago and pretend that only one thing has changed: the removal of the northern pieces of HS2. No, for the North and across the Midlands, existing plans are blown apart, as we have seen.
Having been encouraged to build economic strategies and then transport plans to support them around what appeared at the time to be committed Government-funded projects, the transport authorities in the North and the Midlands will need to scope out a new approach and find more cost-effective and, equally importantly, earlier-to-deliver solutions.
For the North, there still clearly won't be enough funding to build out the Northern Powerhouse Rail dream. But the North clearly can't wait until – say 2060 – for this to be realised anyway.
And there is a budget allocated – and it needs to be spent wisely. Asking for more is unlikely to be successful (but we know others will keep trying and why not?).
Demanding that the North and the Midlands should be allowed to fulfil their functions and come up with their own coherent, properly phased plan, working within the set budget and alongside Network Rail is the right way forward.
It is time for the North and Midlands Authorities themselves to come together and demonstrate their ability to re-fashion their own future.
Meanwhile, there is also an overarching need. HS2 Phase 2a must be saved. The incoherence of curtailing HS2 where Phase 1 joins Phase 2a and dispersing around £7bn funds to the wind must be rescinded.
It would be criminal to allow this section of HS2 to be lost. It already has its Parliamentary Powers, it can be opened around the same time as Phase 1, and it has the lowest cost/mile of the various parts of HS2, and – most important of all – relieves the biggest bottleneck on the national rail system between Scotland/the North West and the Midlands & South.
Without Phase 2a, the North West (and Scotland) will get no significant benefit from the remaining parts of HS2 to the south and indeed will have to face the consequences of even greater pressure on today's rail network.
Greengauge 21
Ref 1: Note the £96bn total included the full costs of building HS2 Phases 1, 2a and 2b (west), some of which expenditure lies in London/South East.
Ref 2: What this left unresolved of course was how all of the other services on the rail network, stopping service and freight in particular, that contrive together to make reliably quick city-city timings unachievable: this is what 'appropriate investment' would be needed for and what the next stage of study was intended to uncover.
Ref 3: And of course, we now can't count on Euston as an exemplar, because it's only 'subject to private finance being forthcoming'.
We actively encourage people to use our work, and simply request that the use of any of our material is credited to Greengauge 21 in the following way: Greengauge 21, Title, Date.