Greengauge 21 was asked to provide a key policy component in the UK 2070 Commission's enquiry into regional inequalities that reported in September 2019. As one of its seven priorities in a call for action, the Commission calls for a connectivity revolution.
The full Greengauge 21 report can be found here: The UK's 2070 Transport Infrastructure Requirement
In an era of online, digitised and personalised consumption patterns, it still makes sense to address the nation's needs primarily through a network of shared transport services (rail, metro and bus).
Such an approach contributes to meeting Government-adopted environmental targets. It builds on what exists (a substantial rail network) and provides the missing links, electrifies all busy routes, and – for the first time in the UK – proposes an integration of rail and bus, longer distance and local services, with common fares and a set of hubs and 'mini-hubs'. It has the potential for more efficient use of limited network capacity, and to contribute to meeting Government-adopted environmental targets.
The UK2070 Commission's vision for a connected Britain, is based on environmental standards to meet the national carbon target in 2050, and has the following components:
A common standard of excellence in connectivity between the core network of towns and cities, comparable to that which operates to/from London.
Creating mobility within city regions and smaller urban areas through new transport systems – with extensions into rural hinterlands through Light Rapid Transit/bus/metro systems(suitably decarbonised), including the expansion of existing systems in metropolitan areas – as well as major investments in other cities and towns, transport innovations and shared travel options connecting areas of lower demand to the core network.
Creating new connectivity beyond, to address the absence of sustainable links to disadvantaged areas and across estuaries. This would enhance access to high order services (such as hospitals and Further Education opportunities) and to economic prospects (e.g. for coastal towns and cities). This could be delivered mainly through local urban and rural transport services connecting to key transport hubs as well as key destinations.
The new UK Network would ensure that the whole of the UK's nations and regions would be well connected (in terms of speed and frequency) with each other and not just with London; and that economic sub-regions would be well connected internally and with their neighbouring sub-regions. The diagram below highlights new links that need to be made.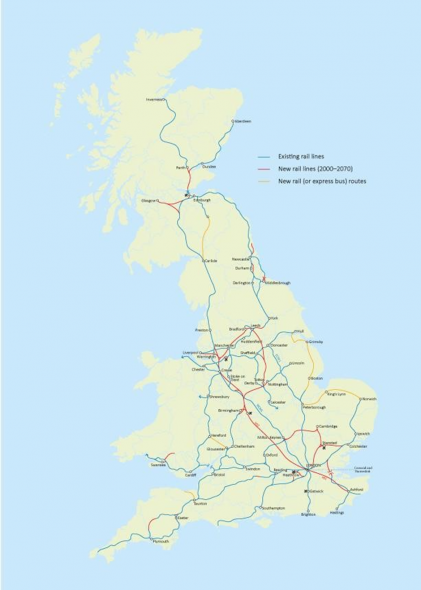 The Greengauge 21 plan presumes that HS2 is built and calls for:
a major programme of rail electrification utilising decarbonised electricity (noting that Scotland already has a stated ambition to electrify its entire rail network)
a series of, re-openings, major railway route upgrades, and new lines totalling around 1900 miles – needed to improve connectivity, increase capacity and service reliability
a strategic electrified rail-freight network linked to ports in both the north and south of the UK
a new policy initiative to create bus priorities along express interurban bus routes
a presumption of a joined-up public transport network, with fares/ticketing available across travel modes and a series of mini-hubs as well  as hubs established where passengers need tointerchange.
a set of measures which together provide for a public transport corridor, for example,
along the south and east coasts of England, where there are a number of significantly
disadvantaged places in terms of connectivity.
a set of metropolitan area transit systems – both for all city regions with existing light rail/Metro systems where extensions will be needed and others where new systems need to be established – bringing a better public transport alternative to smaller cities and towns.
a programme to retain connectivity in rural areas, where use of demand-responsive rather than scheduled transport is likely to feature. For example, in Northern Ireland – the absence of rail connectivity precludes the opportunity of accessing opportunities and facilities in Belfast.
a programme of new estuarial rail crossings – in England, Scotland and Wales.
The eastern side of the country needs special attention
The Greengauge21 Report highlights the fact that the eastern side of the country, especially coastal areas and including the East Midlands is identified as requiring particular attention to reduce social and economic inequalities. It illustrates how this might be addressed through, for example, the measures based on:
Creating multi-modal interchanges – at Norwich, King's Lynn, Wisbech, Hull, Peterborough, Barnetby, Scarborough, Whitby and Middlesbrough.
Establishing complementary interurban bus routes – radiating from Lincoln to the Lincolnshire towns of Louth, Skegness, and Boston, for example;

A new cross-Humber route linking Hull to Nottingham, Sheffield and London,  and to a reinstated Lincolnshire  coastal route;
In the North East, a new rail crossing of the Tees and a rail connection from Ashington and Blyth to Newcastle