The eastern limb of HS2 – stretching from Birmingham to Leeds and the East Coast Main Line south of York – is an important part of the development of a truly national high-speed rail network. Its value has been increased by the excellent decision to integrate the HS2 station with the existing railway station in the centre of Leeds.
But the question of where best to locate a HS2 station in South Yorkshire remains unresolved. And on current plans for London/Birmingham HS2 services, the eastern limb will have spare capacity. So a problem and an opportunity.
In the East Midlands, Nottingham City Council wants to see HS2's spare capacity used to create a fast Nottingham – Birmingham connection (and this requires a new connection to be made at Trent/Attenborough). Leicestershire County Council wants a different connection added (in a similar location) to allow services from the north to operate over HS2 and then southwards to Leicester and beyond.
And in the Northern Transport Strategy Spring 2016 Report, one of the options for 'HS3' would be a new east west route across the Pennines (shown in purple in the map below), connected to HS2's eastern limb (shown in blue) so that new, fast trans-Pennine services can turn northwards to Leeds, York and the North East – as well as southwards to Sheffield and the East Midlands.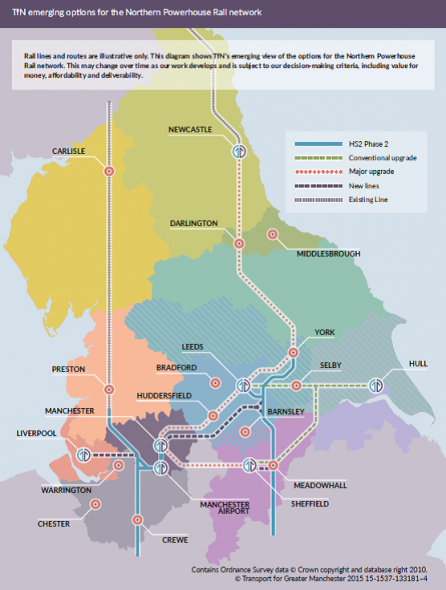 Source: Transport for the North:  Northern Transport Strategy Spring 2016 Report
No decisions have yet been taken by Transport for the North. These must await the outcome of the now funded feasibility work. There are alternatives to a new route across the Pennines to consider that would rely on upgrading existing lines instead. But the interesting feature of the HS3-HS2 approach is that it is both a way to get added value from the eastern limb of HS2 – using its stations and its spare capacity – and a very convenient and effective way to make a significant improvement to east-west connectivity: between Leeds and Sheffield along with a wider set of cities on the eastern side of the country, and Manchester and Liverpool (and Cheshire and Lancashire) on the western side.
With HS2 Ltd seeking to finalise its plans for HS2 by Autumn this year, there is a slight mismatch in timescales to overcome. But there is also a critical implication for the choice of station location in South Yorkshire that can be resolved without delay.
The outputs that Transport for the North is seeking from the rail network are very clear. The aim is better connectivity between the North's main cities, as illustrated below. Specifically, the aim is for a high-quality network of services – and in relation to Sheffield, this includes achieving a connection to Manchester in 30 minutes and to Leeds in 30 minutes – in each case measured on a city centre – city centre basis. The eastern limb of HS2 provides for this possibility only if it serves Sheffield city centre. If Meadowhall  is preferred for the location of the HS2 station (as in the diagram above, which reflects the current HS2 Ltd plans) then an additional connection would be needed (shown as a further, short, purple line between Meadowhall and Sheffield).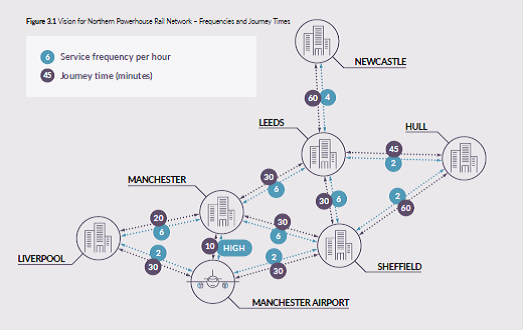 Source: Transport for the North:  Northern Transport Strategy Spring 2016 Report
While this may be feasible – and might just allow for achievement of the Leeds-Sheffield 30 minute target, it would not allow the Manchester -Sheffield journey time target to be met. As the recent National Infrastructure Commission's report on investment in the North's transport infrastructure notes:
"On the eastern branch, the core proposal is for HS2 to stop at a redeveloped Meadowhall station, situated outside Sheffield city centre by the M1. The journey time between Leeds and Meadowhall would be 17 minutes, down from 49 minutes today. This, in itself, will not result in an improved intercity journey between the centres of Sheffield and Leeds. Options to connect Sheffield city centre to HS2 have been identified, however, that could reduce the journey time between Leeds and Sheffield city centres to TfN's aspiration of 30 minutes or potentially lower."
The NIC report goes on to conclude that:
"a link from Sheffield Midland station to Meadowhall that would allow compatible through-running of trains on the HS2 line to the north, as well as the possibility of the HS2 station being situated in Sheffield city centre rather than at Meadowhall…. should be explored".
We agree. There is a strategic network problem for future HS3 services with the Meadowhall location for HS2.
Unless the HS2 north-south route passes through central Sheffield with a suitably located station, the trains that would need to be run to meet the Transport for the North ambition would all need to be additional to those that will be running on HS2 to Birmingham and London and there is insufficient line capacity to accommodate them all.
If Sheffield city centre is on the HS2 route, then the addition of 'HS3' would allow fast services to be operated on key non-London axes such as Liverpool-Manchester-Sheffield-Nottingham/Leicester and Newcastle-York-Sheffield-Birmingham for example. Make no mistake, such services will be needed in any event; it's just that if the HS2 station is left at Meadowhall as currently planned, they will need to run over the much slower, congested, existing network just to ensure Sheffield remains connected. So if the HS2 station is located at Meadowhall it will not achieve the wider network benefits of which the eastern arm of HS2 is capable.
But there is another issue that will also need to be resolved. The other major centres in South Yorkshire will want as good access to HS2 in the centre of Sheffield as might be achieved – with new local access connections – at Meadowhall. So, one approach would be to ensure that an HS2 station in the centre of Sheffield is just as well integrated with the existing station as is now planned for Leeds.
The question of HS2 station location – Meadowhall or Sheffield centre – is a critical issue for the development of the South Yorkshire and Sheffield economy. It is also a critical factor in the way the national HSR network of services is developed. With the right decision, it is possible to meet the ambitions of Sheffield and South Yorkshire and deliver wider benefits from HS2 investment to the surrounding regions.