Scotland has been sitting at the margins of high-speed rail – until today. With an agreed 3 hour target journey time, Scotland becomes a key beneficiary. With the scope to displace the major domestic air market between Scotland's central belt and London, the case for high-speed rail in Britain as a whole is hugely strengthened.
It may seem a small step, but to see Minsters from Holyrood and Westminster agree the aim for Anglo-Scottish high-speed rail at Edinburgh's Waverley station today was an historic step.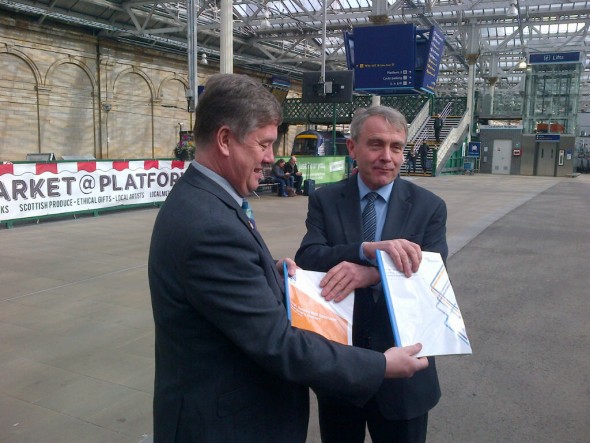 They met to launch two long awaited reports – one from HS2 Ltd on Anglo-Scottish high-speed rail, the other on the case for high-speed rail between Edinburgh and Glasgow. As Robert Goodwill, Minister at DfT said, they could have sung a duet, so much in agreement were they.
Their common aim has settled on what the Scottish Ministers have long sought: a three hour journey time from Edinburgh and Glasgow to London. As with all projects – and perhaps especially this one – it is essential that politicians are able to agree on what they are trying to achieve.
Keith Brown, Scottish Cabinet Secretary for Infrastructure, Investment and Cities was wise enough to explain that the aim for three hours or less has to be associated with providing the extra capacity needed, along with the need to achieve resilience and service reliability. Squeezing in faster services between slower trains on today's infrastructure just won't work. But as of now, he had no view on what was the best option: the report set out a wide range of options – upgrades, bypasses and totally new high-speed lines in each of the east and west coast corridors have been examined.
Robert Goodwill, Minister of State at the Department for Transport, welcomed HS2 Ltd's report saying that it highlighted the benefits to both the North of England and Scotland. It also, he added, showed that 3 hours is possible, and pointed towards a staged implementation strategy.
So what next? For their part, Transport Scotland will launch a 'conversation' with key stakeholders (including with their partners at Transport for the North – with whom they recently signed a collaboration agreement – and with other authorities in the North of England, as well as across Scotland). This is not intended to be a lengthy affair: it will start in June following the Scottish Parliamentary elections. The aim is clear. With both Ministers' blessing, a start on construction in the next control period (2019 – 2024) would be desirable. So the work needed on developing a preferred option cannot be delayed. The two Governments plan to work together and with Network Rail.
High Speed Rail within Scotland (Transport Scotland March 2016)
The report on high-speed rail in the Scottish central belt was updated to take into account the HS2 Ltd cross-border work. It had looked widely at the options to improve connections between Edinburgh and Glasgow – including examining investment in conventional rail and motorways. On its own, high-speed rail between Edinburgh and Glasgow performs poorly in cost:benefit terms, but if added to HS2 Ltd plans – assuming these follow a western corridor (and no decisions have yet been taken on which corridor is preferred) – there is a positive case for east west high-speed rail between the two cities.
We would make two observations about the work ahead on optioneering within Scotland:
In practice, the crucial need is likely to be additional capacity into city centres (especially in the case of Glasgow); once this is clearly established, the case for segregating rail services by speed band becomes near inevitable
It would be a mistake to plan high-speed rail in isolation, as is now well-understood, it has to form part of the wider transport network. In this case, looking again at the longer term plans for cross-Glasgow connectivity might be the best way to unlock capacity. And the need to improve connectivity northwards to the rest of Scotland should not be ignored either.
Broad Options for Upgraded and High Speed Railways to the North of England and Scotland (March 2016, HS2 Ltd)
Encouragingly, work by Transport Scotland and HS2 Ltd came to similar conclusions on potential alignments. Regardless of which route is selected in due course (broadly an east west choice), there will remain capacity challenges to address on the other route. The eastern high-speed rail corridors have the disadvantages of leaving Glasgow with longer London journey times than Edinburgh.
The conclusions of the HS2 Ltd work are, in summary:
Upgrades (restricted to those achievable within the constraints of Network Rail land ownership) would deliver at best 15 minutes journey time savings and yet would be expensive
125 miles of new line – probably comprising as set of bypasses – would enable a 3 hour journey time to be achieved. Costs are in a range of £17-19bn (western route option)
A continuous high-speed route would allow a 2h30 journey time and has costs in the £32 – 34bn range.
Benefits have been estimated, but little detail is available on key assumptions.
So the approach that comes closest to the remit set is a programme of bypasses, and as HS2 Ltd points out, these could be implemented in stages – and indeed later linked together to form a continuous high-speed line.
It would seem likely that there is substantial scope to optimise the package of investment. The aim has to be to provide capacity relief where it most needed and to eliminate slower speed sections of route. Being able to operate at higher line speeds (that is above 200km/h) becomes a further bonus, but the constraints of topography mean that substantial compromises on the normal HS2 Ltd design standards (400km/h) would be needed if substantial tunnelling is to be avoided.