The UK Central Solihull Urban Growth Company (UGC) has formally requested that HS2 Ltd considers modifying its design for the Birmingham Interchange station – so that the benefit of HS2 to the surrounding region can be increased.
Established to develop the economy of a key part of Greater Birmingham and Solihull, UCG proposes a revised design that offers a "fully-connected, urban quarter" with the interchange station at its heart. The revised design, first highlighted at the HSR Industry Leaders' 2017 Conference in Birmingham on June 22nd, is intended to provide housing and jobs located in the immediate catchment of the planned HS2 station. UCG estimates that the modifications could create up to 77,500 jobs, up to 4,000 homes, 775,000 sq metres of commercial space and up to £4.1bn GVA, with the development of the 350-acre site known as Arden Cross critical to these numbers.
So rather than see HS2's Birmingham Interchange surrounded by car parks as currently envisaged….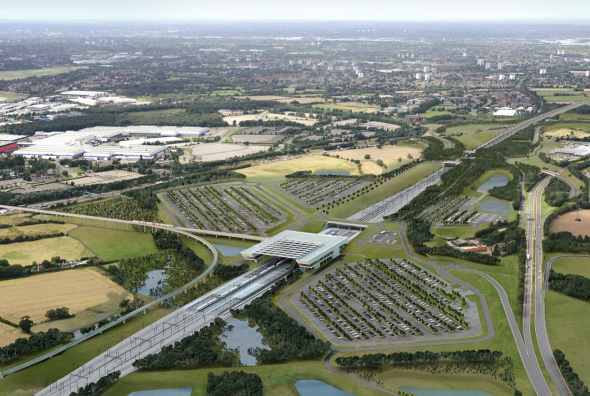 …with some changes to the HS2 station and a different pattern of development, UK Central hopes to create this: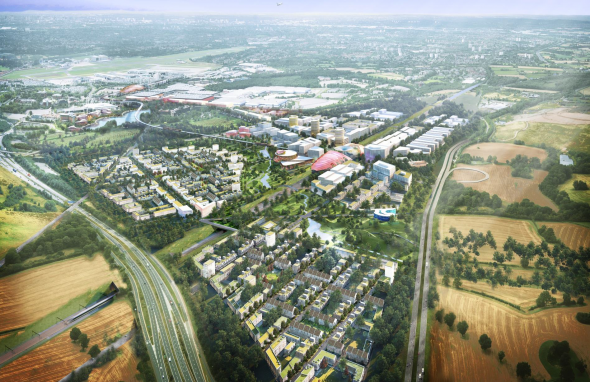 Greengauge 21 has expressed caution in the past about the wisdom of out-of-town station locations whose primary purpose is to accommodate large-scale park-and ride, and so we welcome these revisions. In our view, this development illustrates three important factors:
HS2 creates the opportunity for more intensive – and therefore more sustainable – patterns of development around its stations, both on the line of route and beyond it at key stations where HS2 high-speed services will call, which can provide a blueprint for other developments;
While HS2 is the catalyst for development, it requires strong local aspiration and leadership to exploit it;
The existence of Parliamentary Powers (those for HS2 Phase 1 including Birmingham Interchange were granted Royal Assent in April this year) does not preclude worthwhile adaptations to the HS2 plans at a subsequent time – provided of course, these can be accommodated in the build programme.
The proposed changes to the Hybrid Act include altering bridges, moving roads and creating new landscape features, the costs of which will be met by the West Midlands Combined Authority (WMCA) through its HS2 Growth Strategy Fund. The UGC plans will be complemented by measures that TfWM are planning, including the extension of a Midlands Metro LRT line to the area.
One note of caution relates to the sustainability objectives, which require joined-up planning of housing, workplaces, excellent public transport, and green spaces – so the economic stimulus benefits will need to be considered alongside, in this instance, the protection of the green space between Birmingham and Coventry.
It is Greengage 21's view that the UK Central Solihull UGC's plans look capable of  achieving these objectives, and the revised plans for the surrounds of Birmingham Interchange are a further step in the right direction for HS2.
HS2 Ltd is expected to make a decision on UGC's proposals by the end of the year.
Images courtesy of UK Central Solihull Urban Growth Company (UGC)
© July 2017, Greengauge 21, Some Rights Reserved: We actively encourage people to use our work, and simply request that the use of any of our material is credited to Greengauge 21 in the following way: Greengauge 21, Title, Date