The political analysts turned out to be wrong. HS2 was not being cut in order to release public sector funding for a tax cut. In place of HS2's north of England sections, a whole smörgåsbord of transport schemes is being proffered – not just in the North and Midlands but across Britain as a whole (except London). It won't have gone unnoticed that these multiple transport schemes happen to map rather well onto marginal parliamentary seats.
Those presuming that multiple smaller transport schemes (the smörgåsbord) will be more easily delivered are set to be disappointed. The same arduous process that HS2 has had to negotiate (local objections, environmental mitigations, construction materials price inflation, etc) will apply, if in smaller doses. And none are likely to have the guiding mind of a dedicated delivery vehicle to push each project through (HS2 Ltd was set up as a Government-owned company in January 2009). Agencies or Authorities that it might now be hoped could pick up the delivery challenge have been cut back and/or told to stick to the day job, rather than build project delivery capabilities.
Euston
HS2 Phase 1 has been spared the great curtailment ("too far gone") and this includes the 'frozen' Old Oak Common – Euston section. HS2 will run to Euston, not Old Oak Common. Thank goodness.
Quite how handing oversight of the Euston station part of HS2 to a property development company will save £6.5bn is a mystery. In July this year, the Public Accounts Committee reported its cost as being £4.8 bn.
But saved for now at least, reportedly at the behest of the Chancellor of the Exchequer.
The key issue is how quickly this part of the project can be 'unfrozen' and the tunnelling machines currently mothballed at Old Oak set in motion. The job needs to be completed without delaying Old Oak Common station build-out as well as Euston redevelopment. Delay equals cost increase and benefit loss.
Sparing Euston from the axe is a significant, welcome and necessary step to ensuring that what's left of HS2 has a useful purpose.
But there is a problem. It has apparently been decided that HS2 at Euston should make do with just 6 platforms. For the new curtailed scheme that is manageable – it should be able to support a service of up to 10 HS2 trains/hour. But the new overall emphasis on site regeneration rather than creating a great rail terminus (à la St Pancras International for HS1) should not be allowed to preclude a second stage expansion in due course as originally planned.
Views on HS2 can change, after all, and probably will again when it's up and running. What if a revised version of the Eastern arm is revived in some future reversal of policy? Or some other lower cost device to provide extra capacity from Birmingham northwards emerges as the preferred option as suggested here (see below).
Policy Shifts
Governments are of course fully entitled to change their minds. But it should be realised shifts of emphasis and wider policy changes are the enemy of well-managed investment projects. They drive up cost and add to delays and deter wider investment by the private sector.
So, a little history, apparently forgotten.
It was at the Conservative Party conference in 2008 that Theresa Villiers announced – ahead of any offering from the Labour Party – a Conservative commitment that should they win the next election, (which they did) they would deliver a high-speed railway from London to Birmingham, Manchester, and Leeds. Yes that's before Labour's Lord Adonis strode into DfT and set up HS2 Ltd to deliver it at pace.
Fifteen years later, it's a Conservative Government that has decided to halt a Conservative-conceived HS2 project.
On 4th October, the Prime Minister spoke in terms of breaking with an old consensus that investment into better connectivity between the key wealth generators – our major cities – was money well spent, because it stimulates economic growth, and by focusing on the great regional cities across the nation, that would help wider regional economic re-balancing too. This was certainly a view long held in HM Treasury.
We have no explanation why that assessment is now perceived to be wrong, and that what matters more is improving transport connectivity for towns instead. And it's a false choice anyway: HS2 doesn't require a choice between cities and towns; it benefits both.
What has clearly been missed is this. Creating faster links with new capacity between the major cities is valuable but isn't the sole (or even the primary) purpose of high-speed rail. HS2 is also about releasing capacity on the existing network, capacity that can be used to provide multiple towns with much better rail services. Towns which today see intercity trains passing through without stopping  can gain direct connections they are currently denied. High Speed Rail delivers for cities and towns. It really isn't one or the other. It's both.
HS2 from Manchester to London benefits more Towns than Cities
Cities on the HS2 service network
Towns on the HS2 service network
Towns on routes paralleled by HS2 with enhanced services
London
Stafford
Watford
Birmingham
Macclesfield
Watford
Stoke on Trent
Crewe
Hemel Hempstead
Manchester
Runcorn
Leighton Buzzard

Milton Keynes

Liverpool
Warrington
Rugby
Lancaster
Wigan
Nuneaton
Carlisle
Preston
Tamworth
Glasgow
Lichfield
Edinburgh
Stockport
So it quite simply cannot be argued that HS2 is all about benefitting cities and not towns.
The extent to which individual towns will actually benefit depends on choices that remain to be taken – on what exactly to do with the new rail capacity created by HS2 on existing lines. With completion of Phase 1 still ten years hence, Government hasn't yet come close to making these choices. This is perhaps not surprising but it has also meant the business case has been less than clear about how towns and cities would actually benefit from released capacity.
But in the bizarrely titled new document 'Network North', DfT happily do suppose some highly improbable HS2 service consequentials, but in place of improved services on parallel lines, services are presumed to be thinned out, or slowed down at random, designed – it seems – to set up the false cities vs twins thesis. Still, the Network North document was clearly produced in a huge hurry and is on-line, and subject to ongoing 'mods'. Indeed, commitments to re-allocate HS2 funds to the re-opening of the Leamside Line in County Durham were soon enough removed, for example.
Demand Has Dropped So We Don't Need HS2
The Prime Minister was right to say that since Covid-19 demand for rail travel has fallen – most specifically, for commuting. Additional rail commuting capacity for towns and cities would have been a prime use of released capacity pre-Covid, and it may not be going forward. But other types of rail demand have recovered strongly. Travel at weekends now exceeds pre-Covid levels, for example. And releasing capacity for commuter growth was only one of several possible uses of the additional capacity HS2 frees up on the existing, congested, network.
We don't know how much rail demand is now depressed for other substantive reasons, such as the continuing and long-running pattern of strikes and service dislocations in the rail sector, and the absence of a long-promised simplified fares structure. The delay on progressing fares reform has left rail users with an archaic and incomprehensible system of paying for rail travel which leaves them unsure if they have found the cheapest ticket. Trust has evaporated.
Overcoming these ongoing deterrents to rail travel in due course (soon, it is to be hoped) will in all probability return rail demand to pre-Covid levels and back to a position of continuing annual growth, with less journey to work travel on a 5 days/week basis. Less travel in commuter peaks on some days of the week, will likely be accompanied by more demand for leisure and business travel, all of which help fuel the national economy without adding to road congestion.
So the value of released rail capacity will remain, and is unlikely to be diminished in value, but with a different pattern across the regions and across the days of the week. Yes, Prime Minister, 'facts' do change, but not in way that suits an argument that HS2 is no longer worthwhile.
Freight
There is a new, fast-emerging, use for released line capacity. With the decarbonisation commitment to net zero in 2050 comes an unfortunate truth: there is as yet no alternative to diesel for long distance freight haulage with 44-tonne HGVs (the national standard lorry). Over long distances, we need an alternative to diesel powered lorries and neither battery powered or hydrogen fuel cell lorries work over longer distances without stops to re-charge. The choice between rail and road is finely balanced and very competitive.
Compliant HGVs will operate with a reduced payload in future too: power packs on lorries add weight and volume. This is where the Chartered Institute of Logistics and Transport sees an expanded role for electrically-powered rail freight (with journeys being completed by local distribution using electrified vans).
The West Coast Main Line which HS2 parallels is already by far the busiest railfreight route in the  country. It links all of the major national ports to the Midlands, the North and Scotland. Looking ahead, it will need an extra two freight paths in each direction each hour, at least doubling current rail freight flows. There will be fewer lorries on the national motorway network, itself a dividend.
The problem is there is no room to accommodate these extra freight trains: the WCML is in effect full, just as was forecast 20 years ago in the first studies of how best to address the long term transport capacity challenges the nation would face on its long distance north-south transport links: the very problem that HS2 was designed to solve.
The question is this: where exactly are the key constraints, the bottlenecks on the existing railway that HS2 was designed to overcome?
The answer is not between London and the West Midlands.
It's between the West Midlands and North West England. The cancelled Birmingham-Crewe section of HS2 (Phase 2a) is absolutely crucial to achieving the capacity benefits from HS2.
Phase 2a
If the commitment the PM made in his Conference speech to work with Ministers on improvements needed north of Phase 1 is to be meaningful, then Phase 2a (which runs from near Handsacre in the West Midlands north to Crewe) needs to be kept on the table for now, alongside alternatives.
This section of the project was initially 'frozen' in March this year, but Phase 2a has an Act of Parliament in place to proceed to the construction phase. It will take a further Parliamentary vote to remove its authorisation Act from the statute.
Fully 98% of the land to build Phase 2a has already been obtained. While construction hasn't been allowed to start, HS2 Ltd has made great progress to accelerate this phase, to catch up almost with Phase 1.
The Phase 2a section of the HS2 line costs only around 10% of the cost of Phase 1. But it is an essential 10%: this is where the biggest bottleneck on the rail corridor from London to Manchester is to be found.
Here at Colwich there is an un-modernised junction and the track capacity is halved: south of here four tracks, north towards Stafford, only two tracks for all trains, freight and passenger alike. Colwich is a source of delay every day that will only get worse when all of the HS2 services – to Liverpool, Manchester and Glasgow are added, and with Phase 2a unavailable to provide any additional route capacity.
Colwich Junction On The West Coast Main Line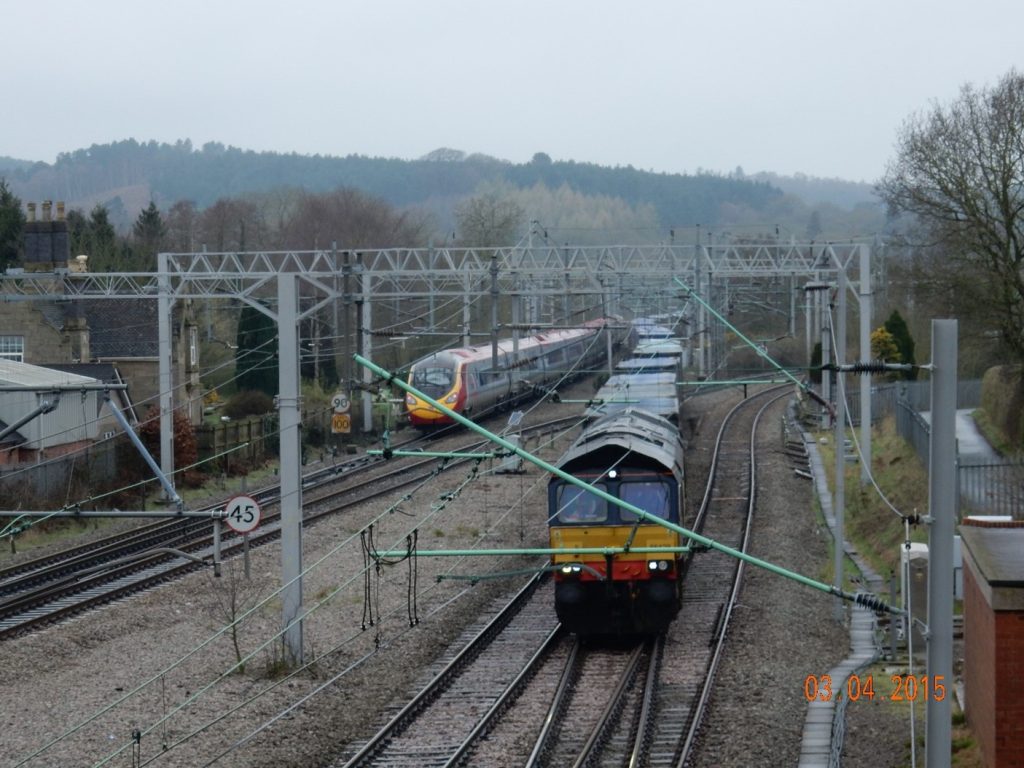 Photo: Greengauge 21
Government wants to immediately start selling the property that has been so diligently acquired with Parliamentary approval to build Phase 2a to Crewe. We can admire the haste, but will the NAO or Public Accounts Committee, who will know that a fire sale is unlikely to provide the best returns to the Exchequer? Probably not.
Before losing the option to build out Phase 2a as planned, the question of onward capacity  from where HS2 Phase 1 joins the West Coast Main Line (Handsacre Junction) –  needs to be addressed.
There is a choice. The first, obviously, is to build out Phase 2a as far as Crewe. This provides a bypass of the two-track section of the West Coast Main Line and speeds up journeys compared with operation over the 'old' line. It is ready to go: it's literally shovel-ready. This is in stark contrast with any alternative. True HS2 infrastructure would not reach Manchester, but HS2 services could do so, using the existing line from Crewe via Stockport to Manchester Piccadilly, where the case for new, longer platforms for Euston trains would remain to be addressed (which is, incidentally, the case in all build/no-build scenarios, but this isn't mentioned or costed in 'Network North').
The second option is to revert to a scheme to bypass the two track section, a scheme previously considered but not progressed as part of the West Coast Route Modernisation project 15 years ago. This would resolve the bottleneck problem, and would be significantly cheaper than HS2 Phase 2a (mainly because it's much shorter) but:
The planning process, including land acquisition, detailed environmental studies etc would have to be started from scratch, so although cheaper, overall implementation may not be shorter
Journey times for Liverpool, Manchester and Glasgow intercity trains would not be as quick as with HS2 Phase 2a in place,  and
It would mean reverting to the previous 'improved' plan for Handsacre Junction (an improvement deemed unnecessary if Phase 2a and Phase 1 came to completion in similar timescales, since then there would only be one train/each hour joining the West Coast Main Line at this point).
So we urge Government to pause on its Phase 2a property sell-off plan until it has given itself time to carefully consider the choices north of Birmingham. We have identified the two main ones here: clearly others may surface.
Conclusion: What Should Be Done Now?
In curtailing HS2 – and allocating the money saved elsewhere – Government is signalling a change of transport policy.
It may raise a lot of hopes about future schemes, many of which face years of detailed planning ahead. They face long lead times and the country is not blessed with available and experienced project planning and delivery bodies.
At the same time, Government is highly critical of its own chosen delivery vehicle – HS2 Ltd – and its failure to control  rising costs.
Two main factors have driven cost inflation on HS2: accommodating local stakeholders' interests through the detailed planning stages (broadly 2014-2022), with, for instance, much more extensive tunnelling than originally planned; and then a huge increase in unit costs which has been experienced right across the construction sector over the last five years, largely driven by external factors.
But these same factors will likely not go away and are very likely also to infect the smörgåsbord projects, which after all have not yet gone through the statutory planning processes. And unlike HS2, these projects probably will not be allocated a dedicated Government delivery company either.
None of this suggests many of these schemes will survive contact with reality.
Meanwhile, in curtailing HS2, Government has pruned too far. As we have shown, as now proposed, the major bottleneck between London and the North of England on the West Coast Main Line – the country's busiest railway line – will remain and face even greater pressure.
This can be solved either by implementing Phase 2a for which nearly all land has been purchased and all of its planning stages have been completed – or by resurrecting a smaller scheme that could deliver a local 'work-around'.
Phase 2a adds 10% to the Phase 1 cost, and we have shown there is an even cheaper alternative to consider too.
Doing Neither Would Be Reckless. Government Should Not Lose The Option Of Implementing The Relatively Modest Phase 2a Section Of HS2 Until It Has Compared And Contrasted These Two Options.
The second imperative is to address the hostage to the future that is a shrunken Euston.
Here, we ask Government to explain how the supposed saving from the new arrangement is to be achieved. Here, a new developer-led delivery vehicle is planned. Elsewhere such approaches have indeed led to major transport investments – such as at London's Canary Wharf and across the Battersea waterfront. But in these cases the transport connections instigated (and to some extent, funded) by property developers are essentially local and necessary to the viability of the wider development.
This will not be the case when it comes to Euston. The value of residential and commercial development at Euston will not be dependent on how many platforms are built for HS2 services. The requirements for HS2 at Euston need to be fully defined and protected from incursion. .
Finally, we say this. The smörgåsbord is not a plan and it isn't a strategy. The whole point that the railway is a network and a change in one place affects the next part of the network, and so on, is missing, as is any sense of timescale or programme.
It makes HS2 delivery look like a model of good practice by way of comparison.
Jim Steer
Greengauge 21
We actively encourage people to use our work, and simply request that the use of any of our material is credited to Greengauge 21 in the following way: Greengauge 21, Title, Date.
We actively encourage people to use our work, and simply request that the use of any of our material is credited to Greengauge 21 in the following way: Greengauge 21, Title, Date.