HM Government's Spring Budget statement put two parts of HS2 on a 2-year 'hold'.
But the main part of the works now under construction continues uninterrupted – from Old Oak Common to the new HS2 stations in the West Midlands at Birmingham Interchange and Birmingham Curzon Street, along with the connection to the West Coast Main Line at Handsacre, Staffordshire. Key preparation work into Euston (the logistics tunnel) is also continuing.
HS2's Atlas Road Logistics Tunnel launch showing the third London tunnel boring machine (TBM) which is being used to transport 8,010 tunnel segment rings to construct the Euston tunnel, April 2023.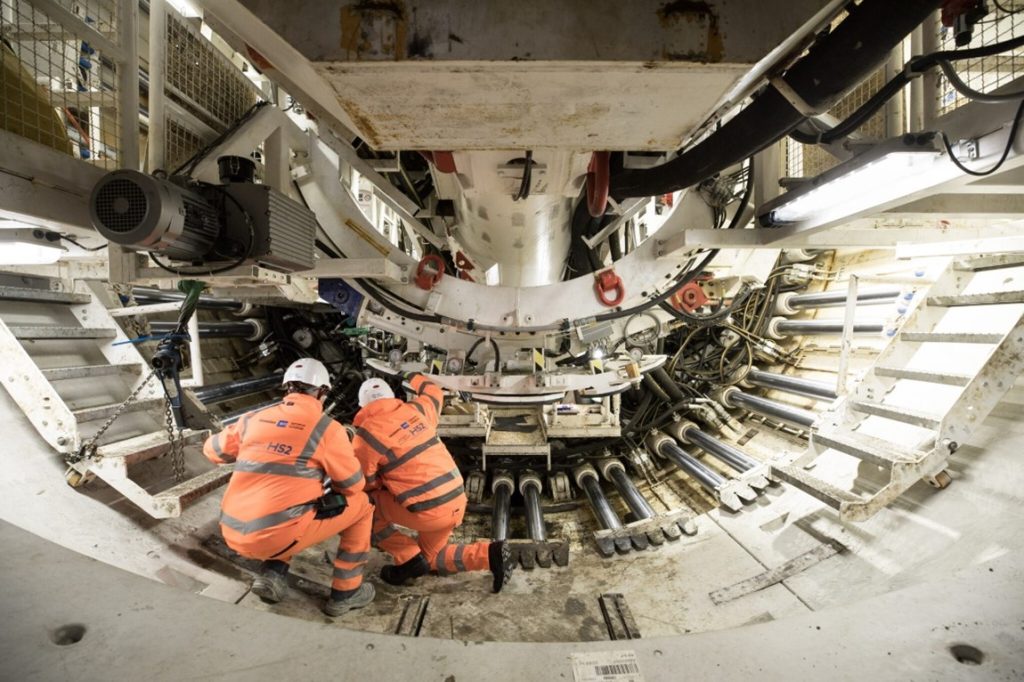 Photo courtesy HS2 Ltd
HS2 is not the only transport project with an enforced delay
Critics of HS2 have suggested the 2-year delay means that Government has singled out HS2 and lost confidence in the project. This is not the case. It was the overall capital programme at the Department for Transport (DfT) rather than HS2 that was targeted for a 2-year pause in Government's Spring Budget. The DfT programme includes major highway projects – the Lower Thames Crossing and the A303 tunnel scheme at Stonehenge among them – and these were also put on hold.
Other cuts include a two-thirds reduction to promised capital investment in infrastructure for walking, wheeling, and cycling, from £308 million to £100 million for the next two years.
And in any event…
Most of HS2 has not been delayed
There is no slowing of work on HS2 between London and the West Midlands.
While the major highway projects have a 2-year 'hold', works on only two parts of HS2 (Phase 2a, an extension of the Phase 1 route across Staffordshire to Crewe, and the main tunnelling works into Euston station itself), have been (temporarily) frozen. Over the remainder of the 170-mile route, construction continues.
HS2 Construction Phases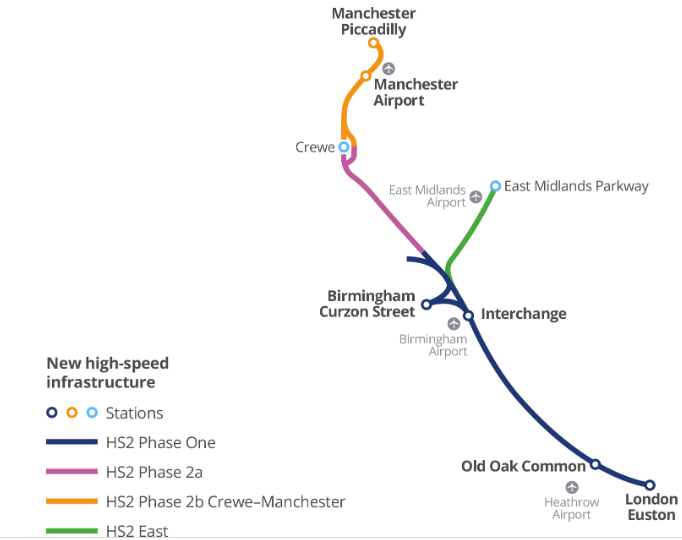 Source: HS2 Ltd (not to scale)  
Rail upgrade projects continue
Interestingly, other rail capital projects – like the Trans Pennine Route Upgrade (TRU) and Midland Main Line (MML) electrification – came through the 2023 Spring budget unscathed. This is significant because it gives the lie to the argument that HS2 is displacing enhancement investment on the existing rail network.
In fact expenditures such as TRU and MML electrification were processed through the 'High Level Output Statement' (HLOS) and the 'Statement for Funds Available (SOFA) process, settled between Network Rail, the Office of Road and Rail Regulation (ORR) and DfT – and since April 2019 through the Rail Network Enhancements Pipeline (RNEP). HS2 budgets do not feature in these arrangements.
The Strategic Case for HS2 is unchanged
After the construction phase, HS2 will of course become part of the national rail network. With overall rail passenger demand levels now back to pre-Covid levels, and demand for freight paths growing, there is no need to re-visit the fundamental capacity case for HS2.
Euston
Making decisions about Euston is complicated by having three different 'clients': HS2 Ltd, Network Rail and a development group led by LendLease. Transport for London is also a major stakeholder, along with the local community and authority (LB Camden).
The right overall design solution will only be found if the overall aims, objectives and priorities are clear and understood between these parties.
A virtue can be made of the necessity for a 2-year delay at Euston to achieve this convergence. And also, we suggest, to address a glaring deficiency in HS2 plans, and an ongoing irritant to northern, midland and Scottish stakeholders: the lack of a user-friendly connection from the HS2 platforms at Euston to the HS1 (Eurostar) platforms at St Pancras International for services to mainland Europe.
Euston is, of course, a crucial part of the project. Without it, Old Oak Common, with its handy connection to the Elizabeth Line, can only support HS2 services running at a much reduced frequency. This would work but only on a short term basis, through a start-up period. Old Oak is in the West London suburbs, not the West End, where, from Euston, tube, taxi, bus and walk/cycle options abound.
Conclusion
Government needed to show discipline in setting its overall budget. Major transport capital projects were identified as offering ££ savings and have had 2-year delays imposed. But existing rail upgrade programmes have not been affected.
HS2 continues to enjoy Government support, including explicitly through both the Prime Minister and the Chancellor of Exchequer. So there is no slowdown of work on HS2 between London and the West Midlands.
There may be some virtues to be gained from the 2-year delay to selected parts of the project. But it is recognised by all concerned that the delay will ultimately increase outturn costs and, sadly, defer the very substantial benefits the project will bring.
Greengauge 21
April 2023