HS2 is criticised for many things, and one that does not withstand scrutiny is that it only benefits long distance rail travellers. Actually, HS2 will bring much-needed relief to hard-pressed commuters. Here, we explain how.
As might be expected, train overcrowding affects commuters in London much more than other cities. But rail travel is growing fastest in the West Midlands (+247% since 1997) and faster too in the North West (+173%) than in Greater London (+114%, over the same period).
A recent report from the Department for Transport examines trends on crowding on rail at 14 key cities in England and Wales. While over 19% of London's commuters have to stand, Birmingham is now not far behind (over 17%). What does HS2 do to address the problem? It frees up capacity for commuters where it is most needed.
Outside London, it is the three cities of Birmingham, Leeds and Manchester that account for fully 71% of standing passengers across the next 13 busiest cities for rail commuting in England & Wales. These are the three cities where HS2 provides extra infrastructure capacity for commuters: new railway lines into city centres and more terminus capacity.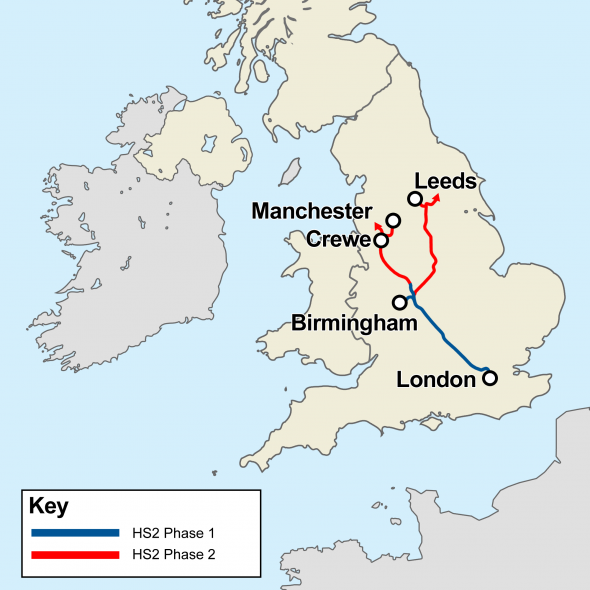 In London, HS2 also provides new route capacity into the city centre at an expanded terminus at Euston. This is where DfT's recent report recorded the single most overcrowded service (17h46 to Crewe) in the country, a train with a load factor of 214% on departure from London Euston.
HS2 is necessary in order to be able to reset train timetables on the main lines into London, Birmingham, Manchester and Leeds, putting in services that stop at local stations in place of long-distance, non-stopping, intercity trains. It's a by-product of HS2, a gift to rail commuters, and it will reduce overcrowding where it's most needed.
When HS2 is built, lines which today must carry a mix of long-distance, non-stopping intercity trains and commuter services will find the non-stopping intercity trains transferred to the new high-speed line. In their place, more commuter trains can be provided, and, with speed differentials reduced, existing lines can be used more efficiently. With care taken in setting new timetables, it will be possible also to deliver a more robust and therefore more reliable timetable too.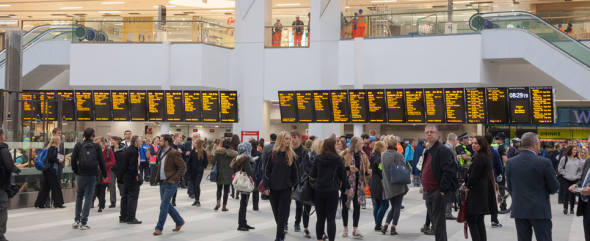 Commuters at Birmingham New street (Photo: Atkins)
In the recently released report by HS2 Chairman Allan Cook that revealed increases in HS2's capital costs, this question was posed: are there unquantified benefits from HS2? Are these also increasing over time?
Here's part of the answer: no decisions have yet been taken on new train timetables for commuter services once HS2 is built. So, this part if the project's benefits are little understood. And there are no low-cost alternatives to bring the scale of benefits that HS2 will provide for commuters from:
the South Midlands, Milton Keynes and the Chilterns into London Euston
Doncaster and Wakefield into Leeds
Crewe, Stoke-on-Trent and East Cheshire into Manchester Piccadilly
Rugby, Coventry & South Warwickshire into Birmingham New Street.
Nothing for commuters from HS2?Nonsense: the biggest benefits are where commuter overcrowding is greatest and where year by year demand is growing strongest!