Publication of the Integrated Rail Plan (IRP) for the North and Midlands is a long-awaited moment of truth.
Northern Powerhouse Rail comes to an end at Diggle
Across the Pennines, between Manchester and Leeds, absurdly, two competing projects have been under development for 6 years. The overlaps between the two projects have been apparent throughout. The IRP signals the end of this particular saga. Meanwhile, other trans Pennine routes (for instance, those that serve Sheffield and Halifax/Bradford) have been largely ignored.

The planned and much-touted Liverpool-Manchester-Bradford-Leeds fast line, Northern Powerhouse Rail (NPR), is largely abandoned in the IRP. A sub-section from Manchester to the West Yorkshire border (at Diggle) is salvaged. Continuation across West Yorkshire (24 route miles) will be along today's railway through Huddersfield, Dewsbury and Leeds. There will be no new high-speed line here; instead, the lower cost multi-phased Trans-Pennine Route Upgrade (TRU) comes into play.
Bradford, which was part of the final NPR plan, is the big loser in this arrangement. The IRP claims a Manchester-Leeds journey time of 33 minutes will be feasible. It will need to be a top-of-the-range version of TRU to achieve that.
Westwards from Manchester to Liverpool, the idea of building a new section of high-speed line from HS2 near its proposed Manchester Airport station through the centre of Warrington to Fiddlers Ferry (where it would join an existing line to complete a circuitous route into Liverpool) features in the IRP. This approach is preferred to an upgrade of the existing much shorter line from Manchester to Liverpool. But this part of NPR doesn't shorten Liverpool-Manchester journey times that today are only 37 minutes. This part of the package looks to be at risk of being dropped at a later date.
The North West is a key example of a complex railway geography where all of the local, regional, and long-distance passenger service options and rail freight needs should be examined together, rather than basing decisions on a review of short-listed NPR options.
HS2's Eastern arm shortened
Plans for the Eastern arm of HS2 are revised and curtailed in the East Midlands, with the whole section beyond to Yorkshire dropped and replaced by an upgrade and electrification of existing lines. It means that cities will be better inter-connected (the central section of HS2's Eastern arm avoided intervening cities, chasing a headline London-Leeds journey time). Nottingham and Derby, previously bypassed, will now be able to join the list of cities with a direct HS2 service. Sheffield, as it happens, will get just as fast a connection with London as the full HS2 plan provided. But there is sadly no sign of any improvement for Sheffield-Leeds, the North's busiest cross-commuting corridor.
In our review of the HS2 Eastern arm last year, we showed how the ability to serve Nottingham with high-speed rail could be used as a basis for transforming the nation's key longer distance inter-regional route ('cross country' in railway parlance). This in turn supports a proposition of upgrading the East Coast Main Line (ECML), introducing 140 mile/h operation from Nottinghamshire (Newark)  to Newcastle and adding capacity where needed – and even considering high-speed rail in the ECML corridor – a much easier proposition than the now suspended HS2 East alignment that was beset with the challenge of negotiating multiple towns and villages, former collieries and landfill sites and ducking diving with the M1 Motorway (which would have needed temporary relocation).
This would create the strong NE-SW rail infrastructure that must form part of any sensible national strategic rail plan, adding Nottingham to a much faster cross-country route between Doncaster and Birmingham. This is how the Y-shaped network, whose right-side arm has now been truncated, can yet be made into an 'X' shape. This also requires investment at Moor Street station in Birmingham. This latter scheme gets a mention (Midlands Rail Hub) but, with only one of the two 'Bordesley curves' needed to ensure that the Midlands section of HS2's Eastern arm can serve this wider purpose without enforced and inconvenient passenger interchange in the centre of Birmingham.
The IRP doesn't join up the dots. It speaks of infrastructure rather than services, and so misses the importance of the more detailed points that determine whether rail services are attractive to customers. True, the IRP envisages track upgrades and re-signalling of the ECML and claims significant journey time savings as a consequence. But without these important connections at either end of the east-west cross-Midland part of 'HS2 East', the business case for taking it forward will be weak, and the full spread of benefits it could bring will be unrealised.
The IRP component parts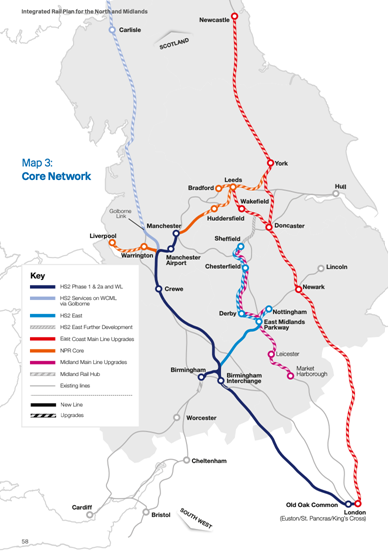 Source: Integrated Rail Plan for the North and Midlands (publishing.service.gov.uk)
Setting budgets
It was good that the National Infrastructure Commission (NIC) a year ago set out a budget to help shape the IRP. It was set at £108bn, 25% above their baseline figure. With some caveats, Greengauge 21 welcomed NIC setting a budget as an important discipline in the planning process. The NIC report said that spending at this level, consistent with the budget set for infrastructure investment as a proportion of GDP nationwide, was needed for economic growth in the Midlands and North. But it also pointed out that not everything on the table was affordable and that choices remained to be taken.
The harsh truth is that the rail sector isn't now, after Covid and its wider financial consequences, accorded the priority it had just 2 years ago – despite the NIC recently concluding that "Transport is the sector with the most opportunity for helping to reduce disparities between places."[1] The IRP has a budget set at £96bn. This will have been developed on the same basis as the NIC had set out in its Rail Needs guidance. The NIC budget, and now the IRP budget, places the whole cost of HS2 – including the route into London – within the 'Midlands and North' budget total.
Several factors have reduced the perceived need to enhance the capacity and speed capability of the rail network in general, including in the North and Midlands. More immediate demands have appeared – maintaining the resilience of the rail system in the face of climate change and accommodating a resurgent railfreight sector are two examples. Meanwhile other demands have shrunk: less pressure on commuter peaks as work from home becomes (for some) the new normal.
And during this time, the flagship Crossrail project, once due to open in December 2018, sadly has remained unfinished, with cost overruns and a still extending completion date. The rail sector hasn't helped itself in the eyes of HM Treasury.
There is a risk that Government has settled on a 'mainly upgrade' approach because it is less expensive than 'new line' and comes with an assumption that it can be delivered more quickly. The reality on timescales may be a disappointment. True, the West Coast Route Modernisation, although much criticised at the time, was very largely delivered in 10 years from conception to completion adding route capacity and a line speed uplift. It had commercial pressures driving its progress, but the question here is what will incentivise the pace of delivery for the IRP? An accelerated delivery approach is called for and needs to be achieved.
A budget area apparently not covered by the IRP budget is any investment coming out of the soon-to-be-published Union Connectivity Review. This will surely proclaim a call for some investment on the two Anglo-Scottish cross-border routes – the West Coast Main Line north of Crewe and the East Coast Main Line as a whole. That is to say: in the North of England (with the possibility of some matching investment north of the border). Yes, both West and East Coast Main Lines are identified for unspecified upgrades as per the map above. But has HM Treasury been fore-warned that the Union Connectivity Review will likely generate a call for further investment, beyond the IRP £96bn provision, to reduce Anglo-Scottish surface transport journey times and accommodate more freight on rail?
What kind of plan is this?
The IRP is the kind of 'integrated plan' that risks giving planning a bad name. The four projects – HS2 in its entirety, NPR, Trans Pennine Route Upgrade and Midlands Rail Engine – devised over the ten-year period 2008-2017, are now judged by Government to be unaffordable. Parts of each of them are now on the chopping room floor. The IRP comprises what is left.
In preparing the IRP, Government has taken the unusual (and for rail, unprecedented) step of preparing a forward plan. In the inter-regnum before the new post Shapps-Williams arrangements came into force, this can be seen as a necessary step. But it is now, equally, a time for Government (specifically, DfT) to take a step back.
The rail network being the perfect example of an interconnected system, implementation planning requires a disciplined approach, albeit one that is capable of adapting (as the NIC suggested) to shifting circumstances, but also one with a deep understanding of day-to-day operational realities.
The IRP needs scrutiny and a responsible delivery authority
The Integrated Rail Plan is a bolt-together job, with a lack of definition around some of the component pieces, and some worrying gaps.  It is not clear whether Government believes priorities for the rail network have shifted as a result of the changes in travel behaviour wrought by Covid-19.  And the deliverability of the IRP, while set out as a decade-by-decade programme stretching well into the 2040s, has not been tested, although there is plenty of discussion on rail industry initiatives to improve on recent performance.
In this context, it is very welcome that Government is proposing to place the responsibility for implementing the IRP with the nascent Great British Railways (GBR).
GBR has in-hand a 'Whole Industry Strategic Plan – 'WISP' and so is eminently well-placed to assume responsibility for the IRP and its implementation. As a first stage it should examine and critically review the plan, not in a cumbersome months-long escapade, but in a short, 6-8 week, task and finish sprint to check the IRP against some key reality tests.
In the UK, it never has been the responsibility of Government Departments to plan the development of the national rail network as has been attempted with the IRP.
Somebody needs to own the IRP outside Government and GBR, which has been set up to lead and coordinate the national rail system, is the right choice to take this forward:
"Great British Railways will take over future responsibility from Network Rail for upgrading the existing network and taking a leading role in ensuring integration with HS2 into that network. It will be made up of powerful regional divisions, with budgets and delivery held at the local level, not just nationally. This will enable much closer collaboration and joint working with local leaders. There will be one, single point of accountability for rail services in a town, city or region."[2]
GBR, it should be remembered, has no commercial interest; rather its central task is to satisfy rail customers as a public sector body. It will want to ensure that, within the allocated budget, for example:
the scaled-back plan can be fully delivered through to completion by (say) 2045, instead of dragging on past 2050. This will likely mean contemplating having more than a single railway Bill in Parliament at any one time
the IRP addresses key current pinch-points on today's rail network – including in Manchester and Leeds (£100m appears to have been set aside to 'examine' station capacity options in Leeds)
there is a realistic plan to deliver a much better rail service along the East Coast Main Line corridor (accelerated Bradford-Leeds-London trains for example has featured in the highlights quoted by the Secretary of State for Transport in the IRP launch debate) in the absence of NPR and the full eastern arm of HS2
real thought has been given to accommodating additional rail-freight,
to network resilience needs, and
to enhancing services over strong long-distance inter-regional passenger demand flows that stretch beyond the North and Midlands such as Cardiff-Bristol-Newcastle-Edinburgh, that is, SW-NE across Birmingham. The connectivity needs of adjoining regions and nations really should matter in the IRP.
In this way, the IRP can be seen as a template that can guide GBR and, with a specific enhancement budget set for the next 25 years, allow the rail industry to get on with delivery, freeing itself from the day-to-day management by DfT that all recent reviews (including Shapps-Williams) have called for.
[1] Second National Infrastructure Assessment: Baseline Report – NIC.  November 2021.
[2] Paragraph 5.17 Integrated Rail Plan