At our seminar in Glasgow we invited stakeholders to consider Greengauge 21's report Beyond HS2 and its analysis is that for Britain, three factors – low productivity, over centralisation and the highest levels of transport congestion in Europe – are inter-related. The seminar considered the common factor of poor connectivity in the context of Scotland, and in particular the challenges ahead in cross-border connectivity to northern England and in connections northwards from the central belt.
Greengauge 21 Director Jim Steer said:
"The cross-border routes face a capacity crunch, as demand for more and better train services linking Scotland with major provincial English cities as well as London will grow over time alongside the need to accommodate increasing freight flows to/from the ports in SE England.
"It was great today to hear that Transport Scotland has in hand the preliminary studies needed to ensure that the benefits of HS2 do not stop in central England", he added. "New tracks are needed to take higher speed services into the centre of Glasgow and free up existing lines for better commuter services and rail-freight. With smart, joined-up planning, a very wide range of rail journeys in Scotland can be hugely improved from two new railway lines.
While much attention is focused on connections with Glasgow and Edinburgh, Jim Steer points to the new fast link northwards as being of equal significance. "Scotland needs to avoid over-reliance on its highway network if it is to create a resilient and attractive transport system. From the central belt to Perth, Dundee, Aberdeen and Inverness, rail cannot match road journey times, and that's why we fully support the idea of a fast, new line alongside the M90 motorway".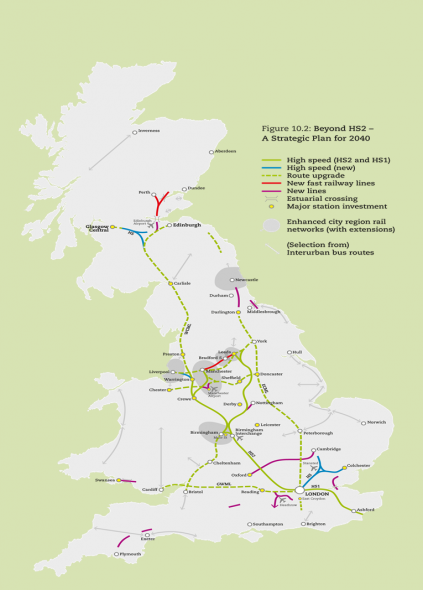 Extracted from Greengauge 21's report Beyond HS2