The West Coast Main Line is closed for a month because of flood damage caused by Storm Frank. Ninety minutes is being added to journeys between Scottish and English cities as trains are re-routed via Dumfries and Kilmarnock. Repairs are needed to Lamington Viaduct near Lockerbie, where the damage has been described as is significant by Network Rail. Re-opening of the line is expected on February 1.
Work underway to repair Lamington Viaduct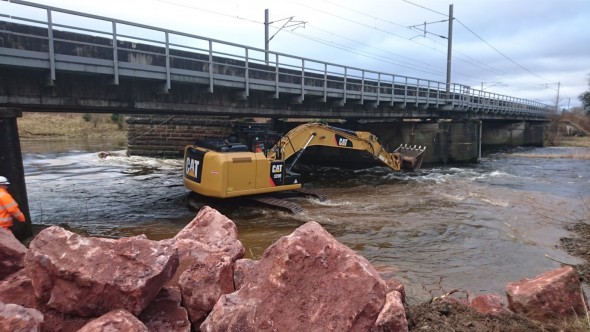 Source: Rail Technology magazine
As flood damage increases nationally, initial concerns are understandably for those immediately affected by flooded homes and businesses. But transport systems too have taken a battering, with several bridges lost or damaged.
Some have suggested that the funding for HS2 should be switched to address new flood protection measures. That would be wrong:  HS2 should be seen as a part of a strategic response to increased flood risk.
The truth is that Britain's wonderful inherited railway infrastructure was built in the nineteenth century when much less was known about soil mechanics and drainage. The increased rainfall of recent years is finding out the weak spots on the national rail network and unfortunately the risks are widespread – as the illustration of areas needing remedial work on the Welsh rail network shows.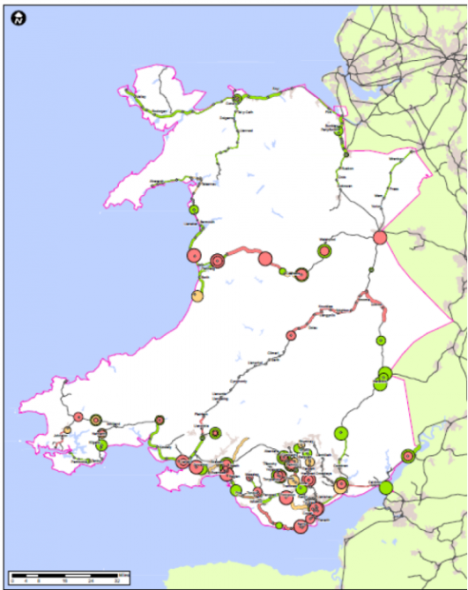 Source: Network Rail 2015
Across the network as a whole, a series of projects are underway to stabilise cuttings and embankments and improve drainage systems. In some cases – as was the case for the Oxford – Birmingham line earlier last year, lines need to be closed while the work is underway. If we were starting again today, the rail network would be built to more stringent design standards that were flood and rain damage resistant.
 The West Coast Main Line last month under 8ft of water at Carlisle.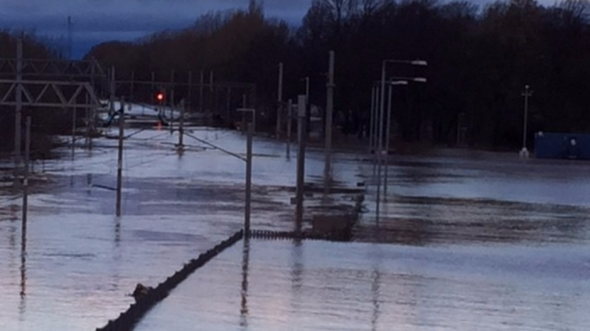 Source: ITV
And that's precisely the approach being adopted with HS2. It offers the opportunity to create a much more resilient transport link between our major cities. Its design standards (as specified by HS2 Ltd, the company charged with its development and delivery) are as follows:
For resilience purposes, the proposed rail infrastructure will be designed to ensure the safe operation of trains during the 1 in 1000 (0.1%) annual probability event for all types of flooding. Although the railway drainage will be designed to have capacity up to the 1 in 100 (1%) annual probability event including an allowance for climate change, the design will also ensure that the flood level does not encroach within 1m of the track level during the 1 in 1000 (0.1%) annual probability event.
The design aim is for no increase in the risk of flooding for vulnerable receptors including residential property during the lifetime of the development, taking projected climate change impacts into account. If required, the design will mitigate loss of floodplain by creating replacement storage areas for the 1 in 100 year (1%) annual rainfall probability event, with an allowance for climate change. 
So, in plain English – HS2 will be resilient to a 1 in 1000 year flood, and the project will not increase flood risk to others up to a 1 in 100 year probability with an allowance for expected climate change.
The rationale for HS2 has not changed. But it provides an opportunity to help address the damage caused by higher rainfall and increased flood risk. HS2 will provide a new alternative line should existing lines be affected. Investment in HS2 should be seen as part of a strategic response to increased flooding, alongside the more direct measures to protect homes and businesses. It is not a potential source of funding for these measures. Cities need flood protection and to remain connected to the outside world.
©Greengauge 21, January 2016