In setting out Scotland's priorities as input to the Integrated Rail Plan for the English North and Midlands, the Transport Scotland (TS) submission interestingly starts with railfreight. And very relevant this is too, given the expected demand for up to 13 extra cross-border freight paths /day once the (now under construction) International Freight Park at Mossend is completed.
The challenge on the Anglo-Scottish cross-border routes is capacity; the opportunity is for more freight by rail and faster passenger services, both of which will make a significant contribution to Government carbon reduction targets. The trick isto find an affordable package of investments that will achieve both.
Inevitably this means a combination of existing route upgrades and some new (high-speed) line construction. So the submission from TS usefully shows how Carlisle and Newcastle stations can be upgraded – both of course in Northern England but both potential inhibitors to Anglo-Scottish rail growth. For Carlisle, a new freight avoiding line is envisaged; for Newcastle, a cost-effective way to accommodate 400m long high-speed trains.
Greengauge 21's report for the HSR Group identified a realisable target journey time of 3h10 between London and Glasgow/Edinburgh, and the Transport Scotland submission again doesn't disappoint: instead it shows how it can be achieved. Building on HS2, it envisages two new sections of high-speed line, one in Scotland, one in the north of England. These are illustrated below – noting that these are schematics – 'vector representations, not actual routes'.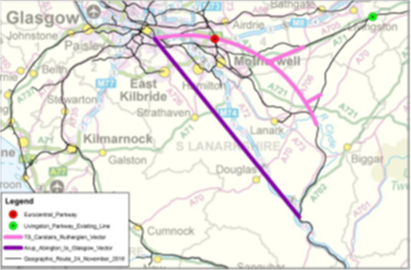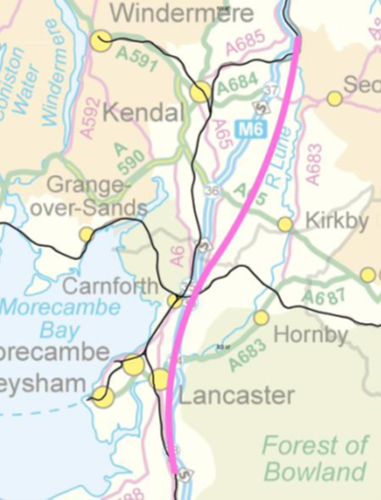 The Scottish Government view of these plans is that:
"[it] would welcome these options featuring within the Integrated Rail Plan as they will meet both governments' ambitions for reducing journey time on the West Coast Main Line, which will bring economic benefit and progress the decarbonisation of transport agenda."
And so it concludes:
"The [Integrated Rail] Plan's scope needs to do more than just consider how to connect with Scotland; it must coordinate the Scottish Government's rail investment plans with those planned for the Midlands, the north of England and the phasing of Phase 2b construction to ensure that maximum benefits are realised throughout the whole route."
Across Europe, it has proved possible to coordinate the creation of high-speed rail networks (such as Paris-Brussels-Köln/Amsterdam); it can't be so difficult to get joined up planning between England and Scotland can it? And if this can't be done, the Prime Minister will have to give up on his ambition to have a tunnel between Northern Ireland and Scotland.