The debate at Greengauge 21's conference in Glasgow on 3rd September comes at a pivotal moment. Successive governments have talked in terms of a British High Speed Rail network. But as yet plans are only developed in the southern half of Britain.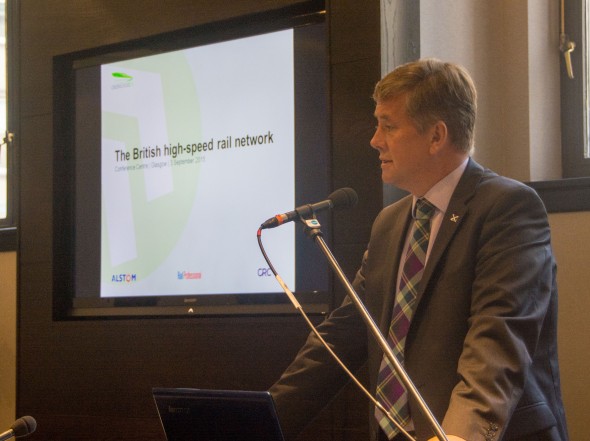 Keith Brown, Scottish Government Minister for Infrastructure, opened the conference by re-stating the critical role of high speed rail in  spreading inclusive  economic  growth as  part of an overall transport strategy.
Cross border high speed rail could bring Scotland a £25bn boost. Sitting in the 2nd largest economy in the  UK after  London, Mr Brown  saw the North of England not  as  competition for Scotland but an ally in delivering more balanced growth across the UK.
He welcomed  Northern  England leaders working with UK Government on  Northern  Powerhouse proposals. By around February Mr Brown expected to be in a position with Patrick McLoughlin to share further studies on cross-border options being  led by Sir David Higgins  and  HS2 Ltd – and importantly to set out next steps.
Founder of Greengauge 21, Jim Steer, said a national high speed rail network simply must include Scotland and the commitment to  publishing potential routes for  taking HS2 north of the Border is a big step forward.
Cross-border links bring the greatest environmental benefit through the scope for major modal shift from air to rail – a lost reason why high speed rail is the right way forward. Jim Steer said the corridor through Carlisle – which lies to the east of Edinburgh – could achieve a balanced benefit for both Glasgow and Edinburgh and the critical sub-3 hour journey time to London.
Jim Steer highlighted three issues. The northern end of the West Coast Main Line has just as much a capacity problem as the southern end. Existing appraisal assumptions prevent a proper value being put on the extra capacity required.  And the 3 hour journey time target can be achieved without a whole-length new route. As a first stage, the aim should be to get as close as possible to a 3 hour journey time for Edinburgh and Glasgow as soon as HS2 to Birmingham opens in 2026 – the notion of splitting high speed trains at Carstairs was a nonsense adding 10 minutes and should be ditched.
Issues to be overcome were illustrated by Audrey Laidlaw, Network Rail's Lead Strategic Planner in Scotland. Long sections of two track railway through the Borders with a conflicting mix of slow freight trains and fast inter-city trains. Pressures on station capacity through demand growth for commuter services into Edinburgh and Glasgow as well for long distance services where Virgin Rail Director Graham Leech said actual demand was massively outstripping conventional demand forecasts.
Sir Richard Leese, Chair of Transport for the North and Leader of Manchester and Andrew Burns Leader of Edinburgh spoke about the massive boost to the economy and quality of life that high speed rail will bring. In both Scotland and the North of England faster east-west links as well as north-south links to London are needed.  This will support business to business links within and between the North and Scotland and growth in tourism. It will widen and strengthen labour markets.
Sir Richard revealed that Transport for the North is seeking significant development funding from the UK Government in support of a £15bn-£25bn investment programme to 2030.
Closing the conference Chair Professor Iain Docherty said the economic landscape in the North as well as Scotland is very positive. The challenges to be overcome are well understood, and the well-reasoned advocacy for high speed rail must continue.
Download conference presentations:
Jim Steer, Director, Greengauge 21 – Key Policy Choices for Anglo Scottish HSR
Gareth Williams, SCDI, What Scottish business needs
Jonathan Pugh, RDG, Freight, passengers – cross-border opportunities and challenges
Cllr Andrew Burns, Leader, City of Edinburgh Council, Edinburgh's Connectivity needs
Audrey Laidlaw, Network Rail, Capacity Constraints on existing lines